DIY CLOTHING IDEAS THAT ARE IDEAL FOR CHRISTMAS HOLIDAYS
Dear girls this is a special post for you, our team today try for you to set aside a few unique pieces of clothing that you can do it yourself.
INSPIRED: RHINESTONE TRIM SHIRT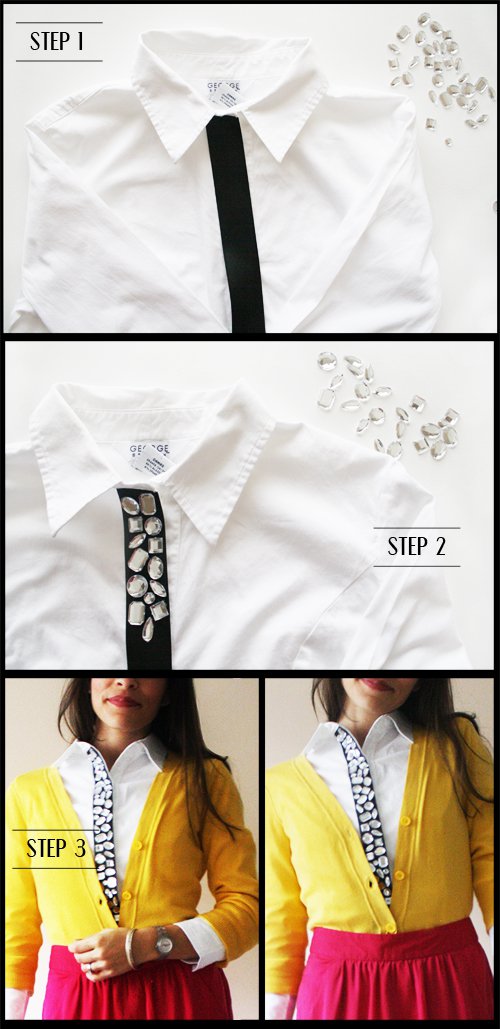 Steps:
1.) Pre-measure your ribbon along the front side of your shirt.
(I singed the edges of the ribbon to prevent fraying.)
2) Place hem tape along the edge (avoid button holes so that the shirt can still button), and iron the ribbon over to secure. If you don't have hem tape, hot glue would work.
3.) Place rhinestones in random order along the ribbon using hot glue until you reach the end of the shirt. If you don't plan on wearing it untucked, only place them till you reach the waistline.
Style your shirt the way you wish and you are done!
There are so many color options you could do for this if you wanted to create a different look. Please not e that this shirt will not endure the washing machine and would need to be hand washed!
Totally easy and fun to wear! Be sure and share your photos on the IHOD FB page if you try this project! I would love to see them!
Click